8 TIPS TO TAKE CARE OF YOUR LUXURY BAG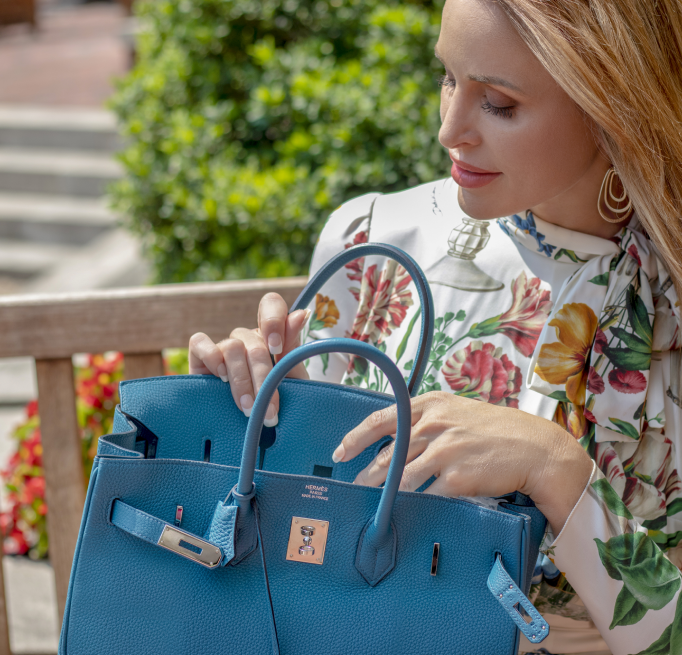 When we purchase high-end handbags, we have this expectation that they will last us for years and even be passed down to the next generation. Unlike on-trend high-street purchases, handbags, especially classic ones, may be worn all throughout the year, making them an excellent investment. However, the amount of money you spend on a luxury bag does not always correspond to how long it will last. Although the price tag guarantees a certain degree of quality, the handbag will still need to be cared for to last.
Here are some general advice on how to care for your handbags: how to store your handbag, how to clean it, and how to keep it in good shape.
DO NOT HANG YOUR BAG.
Do not hang your purse on a doorknob or hook by the handle since it might damage the leather. Instead,  put it upright on a shelf.
Leaving heavy hardware handles hanging on the edges of your bag when not in use adds stress on the bag and may cause ripping, so always zip or secure your purses and then overlap any handles on top of it.
INVEST ON MAINTENANCE ITEMS.
If you want to keep your luxury handbag's pristine appearance, you need to invest in items that will assist in protecting the material before it is damaged. Conditioning and waterproofing sprays can help protect your bag from scratches and scuffs, repel rain, and create a protective coating to keep it secure throughout your everyday activities.
According to one designer, "Before using a suede bag, I recommend spraying it with leather and suede protectant to give it a protective coating and make it better adapted to the weather. However, when it comes to putting the product on leather, I feel that less is typically better to leave the hides as natural as possible."
Do your homework and use the right leather care items to preserve your luxury bag from the wear and tear of being outside before showing it to friends.
MAKE USE OF A DUST BAG.
Forget about your lazy tendencies to sling your bag wherever it fits in your closet; correctly keeping your bag is one of the most critical measures you can take to keep your luxury bag looking new. Most luxury bags come with a dust bag; take advantage of it!
Maintain your bag's shape by placing fillers inside it. If you're short on room, you can keep your soft shirts and sweaters in your handbag to maintain them in shape while saving space. Never use newspaper as a filler since the ink might stain the bag's lining. Wrap chain links straps in plastic wrap before placing them inside the bag to prevent marks on the leather. Finally, gently set your handbag upright in its dust bag, or lay it flat if it has top handles to ensure that the handles do not contact the bag's body.
CLEAN IT, BUT NOT TOO MUCH.
 If your bag is nylon, carefully hand-wash it with mild detergent, rinse it with water, then press it almost dry with a big clean towel before letting it air dry for a few hours.

To clean leather bags, make a solution of warm water and dish soap, soak a soft cloth in it, wring it out, and wash the leather surfaces gently. Wipe the soap away with a second clean, wet towel. Using a towel, dry the area. Water stains and scuffs can also be removed with warm, soapy water.

Keeping this in mind, she advises against going too far. To prevent wearing out your handbag faster, simply clean it when it needs to be refreshed.

KEEP THE INSIDE SAFE.
The interior of your handbag is equally as important as the exterior, and part of maintaining the lining of your purse is mindful of what you put within. For example, always keep any bottles with lids securely closed, and try to use pens with caps rather than click pens to avoid damaging the inside lining.

Furthermore, to keep cosmetics, pens (don't even consider tossing a click pen in your purse!), hand sanitizer, and other liquids, we recommend using plastic baggies or plasticized cosmetic pouches. These objects should not be allowed to move freely in your purse since they may discolor the material. Also, it isn't easy to get lipstick out of cloth!

PROTECT YOUR BAGS FROM DAMPNESS AND DIRECT SUNLIGHT.
Most handbags include a little packet of silica gel to absorb excess moisture in the air, which should never be discarded. The chilly weather brings moisture, which can contribute to mold development. If your bag becomes moldy, take it out of the dust bag, clean it down with a soft, dry cloth, and air it out thoroughly for 24 hours. Investing in a dehumidifier would be an excellent method to prevent mold growth on your baggage and clothing. At the same time, too much sun might harm your purse. So if you want to retain the color of your bag, keep it out of direct sunlight.

REMOVE STAINS AS SOON AS POSSIBLE.
The source of the stain will tell the removal method. Here are some quick pointers by some designers:
Food stains

: Allow crushed white chalk to remain on the stain for a few hours, preferably overnight. Then, using a clean towel, wipe it away.
Water stains
:
Blot water stains, and then allow them to dry naturally before bringing your bag to a specialist for removal.
Pen marks
:
Rub softly with a white eraser to remove new ink stains. However, don't apply too much pressure, and if it doesn't go away right away or if it's been too long, consult a specialist. Ink stains are difficult to remove. 
You can try using a white eraser for small blemishes on a suede bag—a Steadler eraser will also suffice. But first, test an inconspicuous corner of the bag to determine if it ruins the suede's color.
Odors:
Place a baking soda pack inside your bag to absorb odors. Zip the handbag shut, or if it does not zip shut, place it in a bigger bag that closes. Dryer sheets and herbal sachets can perform wonders if left in for a few days.
ROTATE YOUR BAGS.
Rotating your luxury bag for others in your collection, like you would any of your most-loved items, can help it last longer. Although spending a month's rent on a bag may imply that you must use it every day, keep it in a healthy accessory rotation to avoid misuse.
While it is feasible to repair a handbag at home, taking your luxury tote to a professional is often the only option. Professionals that specialize in cleaning, repair and restoration can make any handbag seem new! Look for specialists in your region that can restore your handbag to its former splendor!
It's reasonable that you want to keep your new investment by looking fresh after purchasing a luxury handbag. Use these simple handbag maintenance recommendations to keep your purse looking as good as when you purchased it.